No individual, facebook page, pinterest or any other group, nor website, blog, or any other entity
has permission to post any intellectual property from dondennisfamily.com.
Email us for inquiry regarding publishing our material.




Put Website in Subject Line
Omori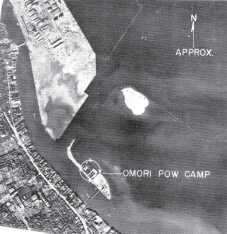 Name:
OMORI No. 8 (TOKYO Camp, OMORI-KU IRIARAI KILA)
Coordinates:
35*35'N., 139*44'30"E. (AMS L774)
Number assigned by Japanese:


No. 8
Location by description:
This camp is on an artificial island east of OMORI Station, connected to the TOKYO-YOKOHAMA road by a wooden bridge 200 meters long. Industrial installations are situated on either side at a distance of 500 to 1000 meters.
Description of Camp:
The island is 1237' x 330'; the stockade, 500' x 300', is on the north end of the island. Other areas being reclaimed nearby. There are 18 buildings of wood construction in the stockade; these are surrounded by a wall three meters high. Trenches have been dug to serve as air-raid shelters.
POW Information:
Number:
Nationality:


Occupation:

611 on 19 February 1945.

British - 20 officers
44 non-commissioned officers
164 privates
2 non-combatants

American - 65 officers
110 non-commissioned officers
127 privates
15 non-combatants

Australians - 7 officers
1 non-commissioned officers
3 privates

Others - 7 officers
6 non-commissioned officers
18 privates
22 non-combatants

30 prisoners are employed outside the camp as operators of factory engines or shops.
---
The Japanese Army had a policy of separating downed American fliers from the other Prisoners of War.
Their reason for doing this was that they did not want longtime POWs to learn
how badly the war was going for Japan.
http://www.warsailors.com/POWs/imprisonment.html#omori
POW News WWII Newsletter from WWII with info from several POW camps