Miscellaneous letters, pictures, obits and clippings of the Miller Family.
This letter was written by Grandma Eliza Tolvstad's sister, Martha.
Monday 14
Dear Folks All,
guess this is your reunion weekend. Meant to get letter up before.
So nice to get all my big bunch of birthday cards and letters and thank you. So nice to hear.
Marian and I had a good visit one day. Was a long time getting together. Shame me never made it when you here still here. Seems it is hurry hurry.
I has got to Jess for few days on my birthday. Lois had dinner at noon as family all working and Gordon in field. Mine has always been in harvest or threshing.
Well I can assure it is nothing great to be 89. Tho I don't feel it except in bones. Ha. Jess and I are the old girls there have never any of us got that old.
Some one came on and he talked so go to get back at it.
Hope a lot of family got there and didn't get rained out. Someone here went camping and tent stood in 2 or 3 in a flood of rain came down. No vacancies any where. I've never been a camper. I don't know of any Tolvstads living in Ellendale area. The only Tolvstads here are Harlen and boys.. He lives on Uncle Martins old farm. One boy there and one works in elevator in Stratford.
Grace the sister of Harlen lives at Sioux Falls and travels in her work and ran into some Tolvstads in Oregon and has Robert Tolvstads boys. They had three teen age boys when I was there after _______ and I visited them and Uncle Lutes. Robert was in prime when he went suddenly with heart attack. He had three boys and nice home and wife. Lester married a widow late in life and don't remember year he died but it was in later '50s. I used to hear from her for several years afterwards. She had a dog grooming studio. Max was born in Montana, Robert and Lester in Graton. Max died young of diptheria I think. Orpha Dodge____ was Aunt Annas sister. She married Guy Quiggles of Groton. Was only two Dodge girls Anna and Orpha I never heard from Roberts after Lester died but seldom and not for years. There are Quiggles still around Groton.
I tell you Jess has a parchment roll of all family on mamas side and Uncle Martin Ham Aunt Mattie Dalton. Family of Uncle Martin and Grandpa too.
But this would be hard to send. Ella Locken gave it to Jess. Ella used to trace families and you could have it. All Cousin Josie Emma Minnie second wife kids of grandpa. So if you ever get down we can get down to Jess as she has most of things except
(and there the letter ends) followed by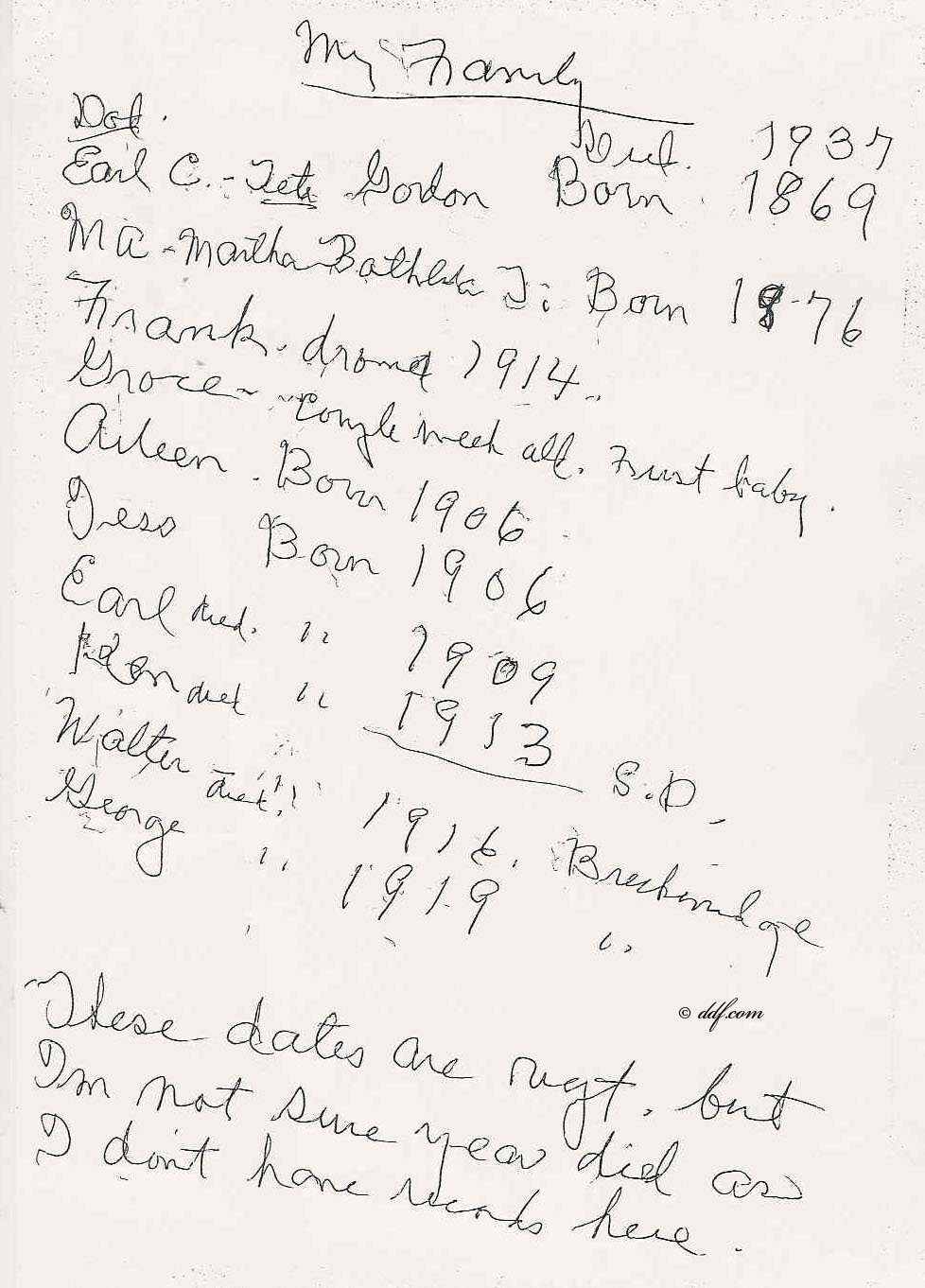 The following information came from the above letter and list..... Grandma Eliza Tolvstad's sister was Martha. She wrote this letter......... She was the mother of Jess. Lois is Jess's daughter, and Ailene is her sister.. Their name was Gordon. Their dad was Tete Gordon. The Harlan mentioned was the son of Frank and Lydia Tolvstad, they are the parents of the Grace mentioned. Uncle Lute and Anna lived in Montana where Max was born. He died young of diptheria. They moved to Groton, SD where Robert and Lester were born. Lute had a garage and Anna had a hat shop. Ella and Elmer Locken went to Norway and got old family records.....they lived in the country near Bath, SD.
When some S.D. Miller family members went to Oregon in 1936 they went to see Uncle Lute and his wife Anna. Their two sons were nearby and they also saw them. A son had died very young, probably the Max mentioned in the letter. Lester was still single then. Robert had a nice wife and a very big baby boy who was too young to walk. Aunt Anna decided they should all go to the Oregon State Fair... they packed a picnic lunch and off they went. The baby was in a stroller - it was hot, but he didn't fuss, and everyone had fun. Lester came to S.D. with his parents in the late 40's and stayed at Grandma Eliza's. Later the family heard Lester got married but they didn't hear about Robert's death until the above letter. Anna had a sister Orpha... their maiden name was Dodge.
One year Aunt Hazel Potter was washing clothes and the gas motored washer was pushed to the doorway to let the exhaust go outdoors, when Uncle Lute and Aunt Anna dropped in. Hazel's daughter Adella ran to the garden to get some food they could fix for an unplanned dinner.... they were probably on their way to live in Oregon that trip.
Below... just miscellaneous papers found in Oldster's Papers - Maybe they can help someone doing genealogy........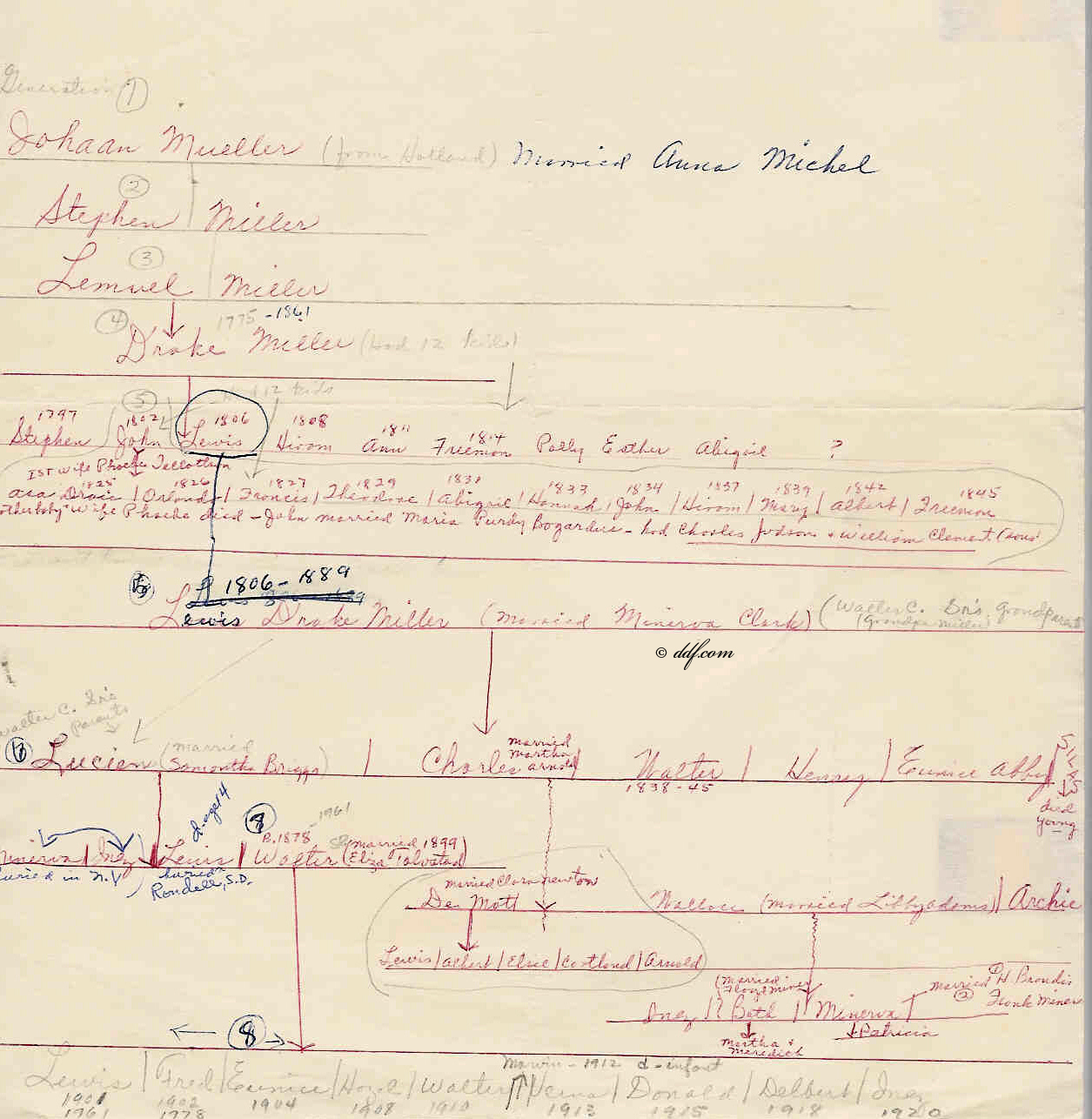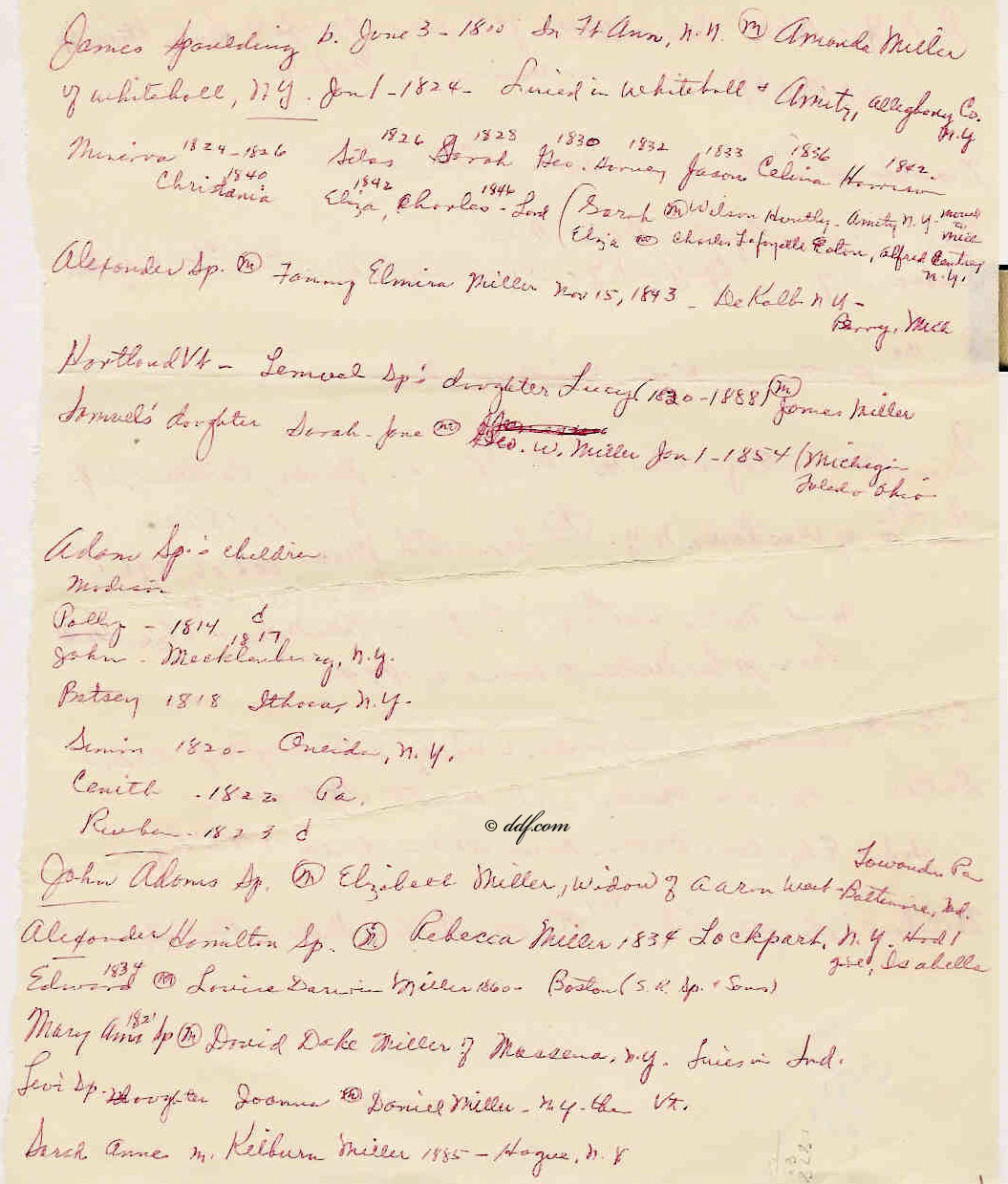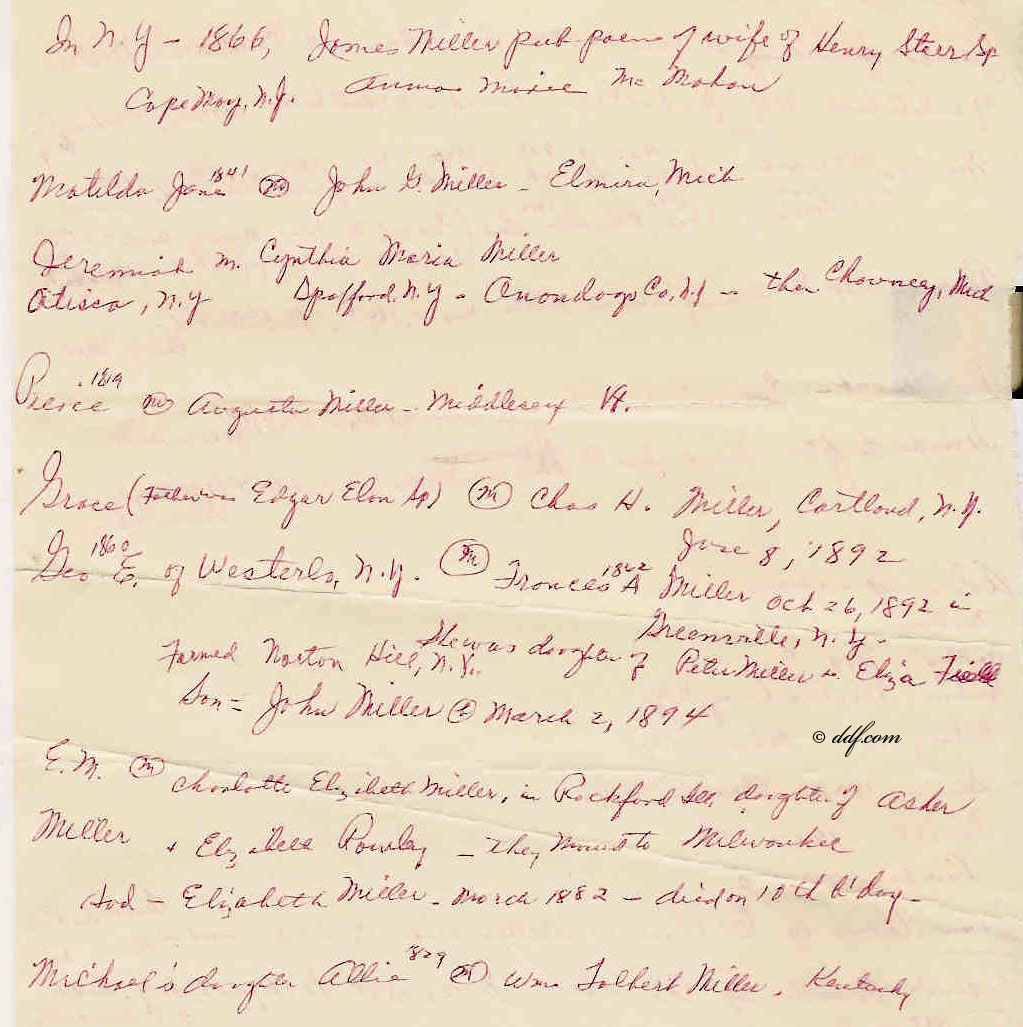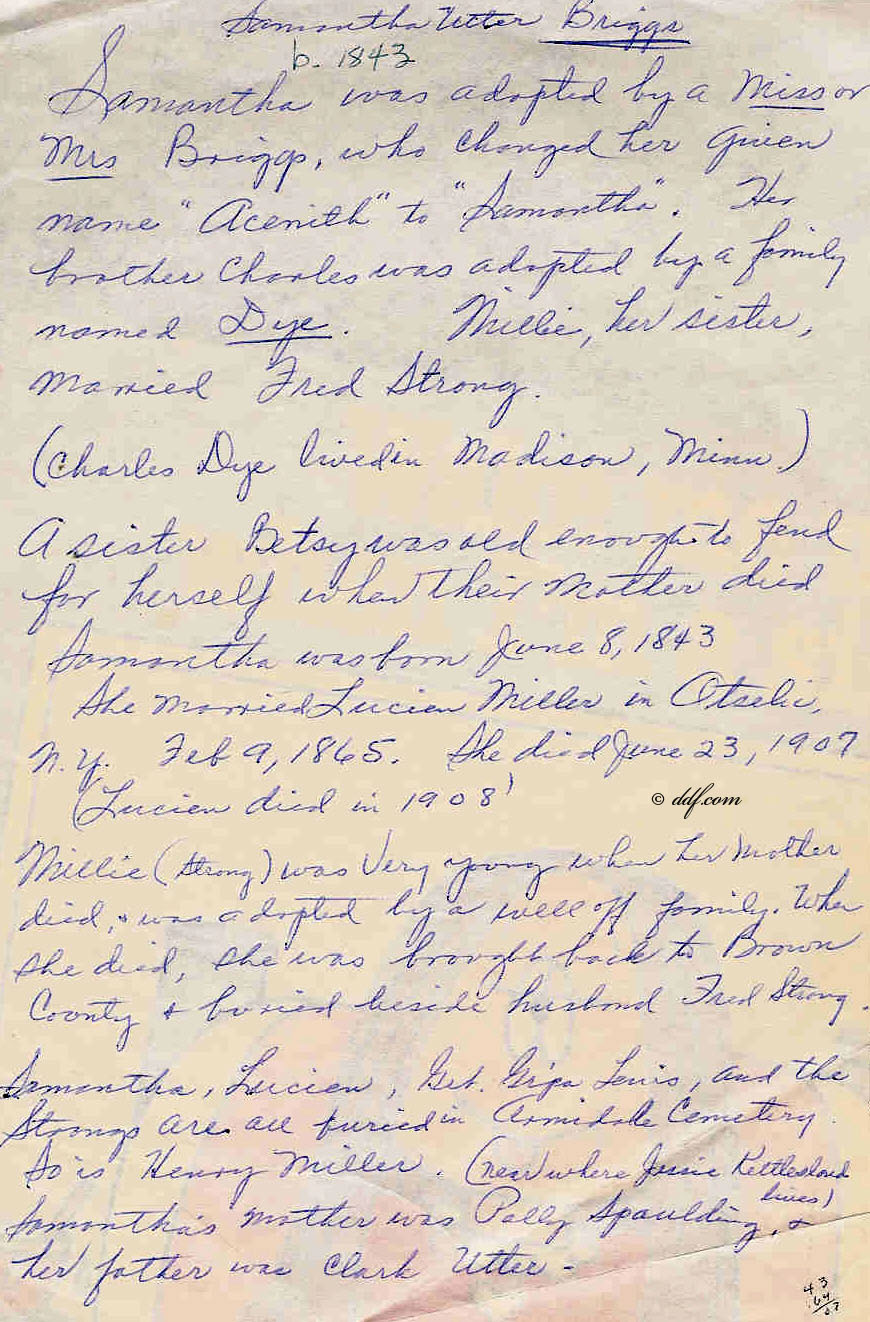 +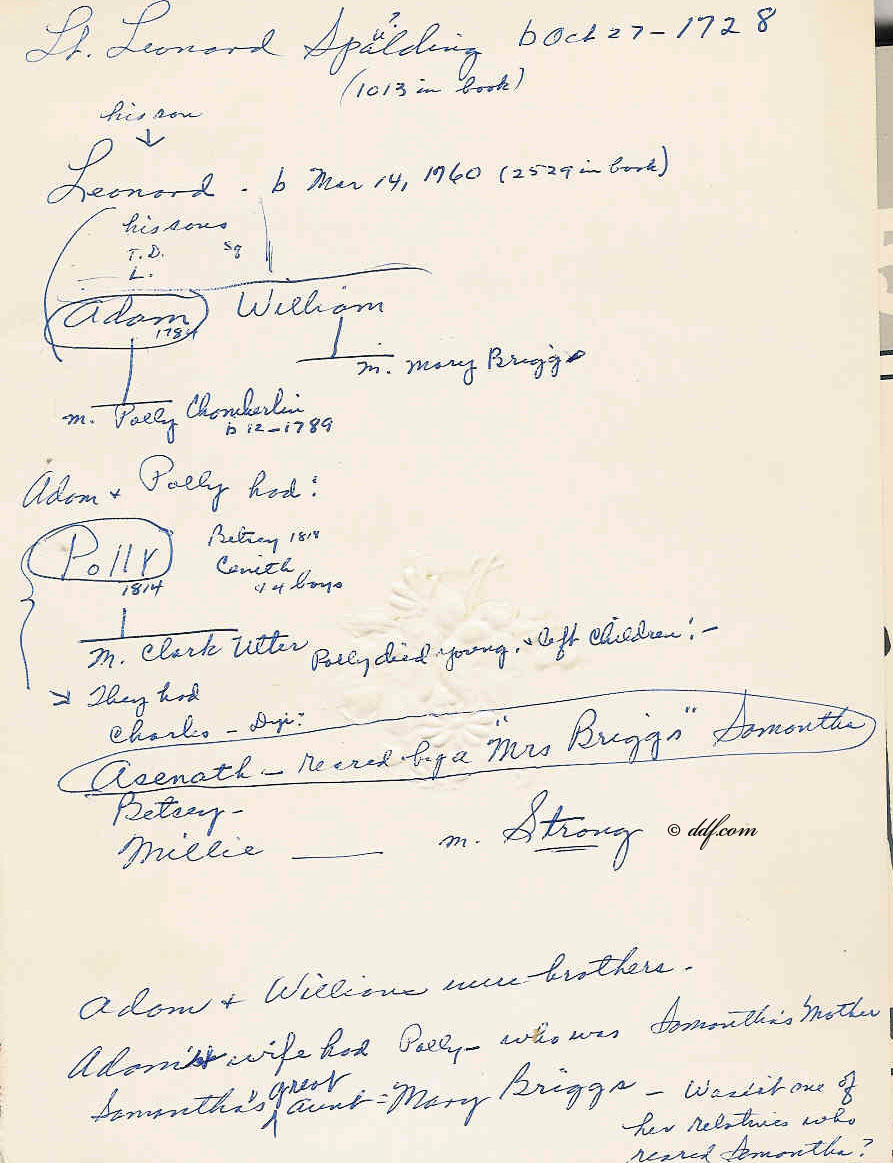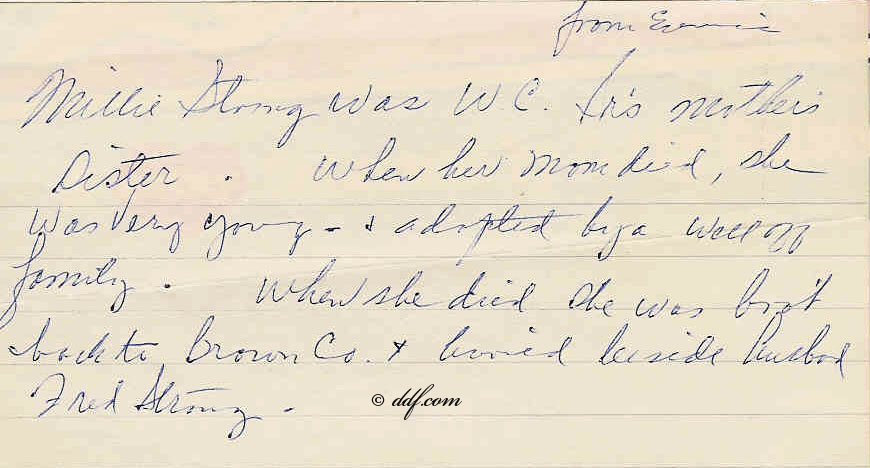 Mille U. Strong was born in New York State, September 15, 1840 and departed this life January 8, 1920 at El Paso, Texas. Funeral services were held at El Paso January 10 and the body laid to rest temporarily in a vault to later be brought to Rondell for burial.
Dr. Elmer Strong, her son, who at one time made his home with his mother in Aberdeen, coming here in 1883 and making this city his home until 1901, accompanied his mother's remains here for burial.
During the year of 1901, Elmer Strong went to Chicago to attend medical college and his mother, then 56 year of age took up a claim at Napoleon, N.D., which she proved up on.
Mrs. Strong was throughout her life and almost to the day of her death and active worker for good among those about her. She took prominent part in public work all her life and especially so during her past ten years of residence in El Paso. She was corresponding secretary of the D.A.R. in El Paso, vice president of the W.C.T.U. and an active worker for the cause of the Y.W.C.A. She was also a prominent member of the teacher's class of the Baptist church. She was one of the first organizers of the Chautauqua society in the east.
The service at the grave at Elwood were conducted by members of the society of Kings Sons and Daughters which she organized in that community many years ago.
- Aberdeen Sunday American
Sunday, April 18, 1920
............................................................................................
Birth: 1846
New York, USA
Death: Aug. 30, 1893
Brown County South Dakota, USA
Fred Strong, a well known farmer of Rondell township, was thrown from a header box yesterday afternoon and quite seriously injured, his condition for a time being regarded decidedly critical by the surgeons who were summoned. This morning, however, he was much improved and it is expected will get along nicely if no complications arise.
- Aberdeen Daily News
Wednesday, August 23, 1893
==============================
Fred Strong, of Rondell township, who met with an accident and suffered internal injuries while engaged in harvesting on his farm about ten days ago, died last evening at 9 o'clock, aged 47 years. The funeral services will be held at his late residence at 2 o'clock tomorrow afternoon.
Mr. Strong was one of the best known and most highly respected citizens of southern Brown county, and the news of his death will be learned with general regret. He was a good neighbor and citizen and stood high in the estimation of all who had dealings with him. His residence here dates from 1882 when the prairies were largely uninhabited and the real development of the county had commenced. His home and property interests in Rondell were of a very substantial and well to do character, for he was always enterprising and industrious. When he fell and received his injuries they were not thought to be of a serious nature, but complications followed which could not be successfully combatted.
The immediate relatives of the deceased are the wife and son, Elmer D. Strong, for whom much sympathy and sorrow are felt.
- Aberdeen Daily News
Thursday, August 31, 1893
==============================
The funeral services of Mr. Fred Strong at Rondell yesterday were largely attended. There were eighty-one teams in the procession which followed the friends and neighbor to his last resting place. Dr. Fowler, of this city, very admirably served as the directing head of the ceremonies. Rev. Dr. Mallory made the remarks which were brief and modified, owing to the feeble condition of Mrs. Strong. Seldom has a stricken family been surrounded in such an atmosphere of public sympathy.
- Aberdeen Daily News
Saturday, September 2, 1893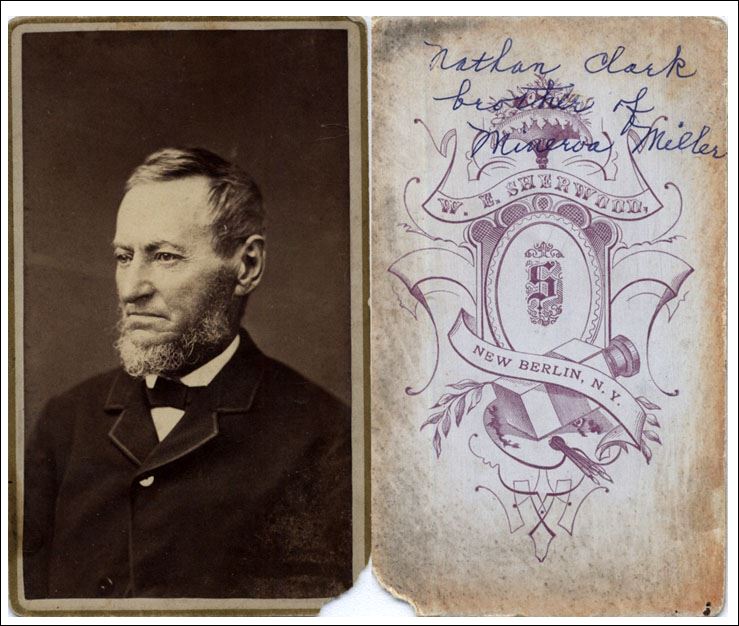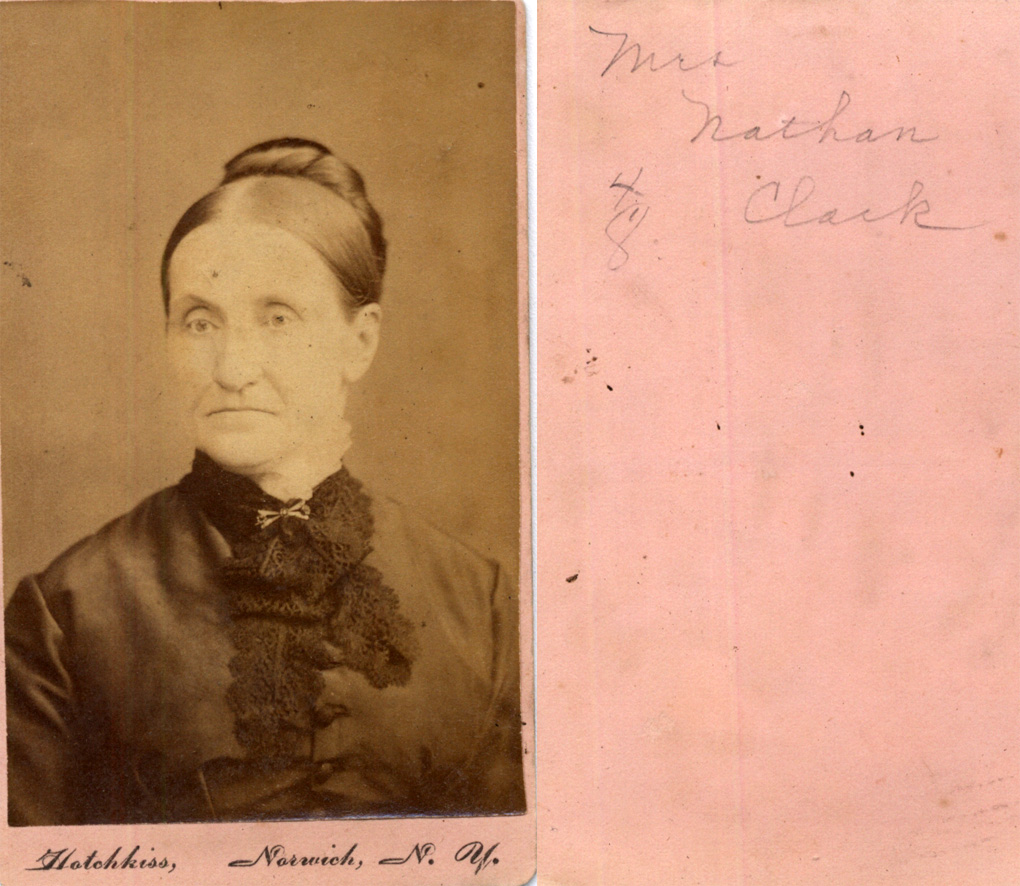 Mary, Mrs. Nathan Clark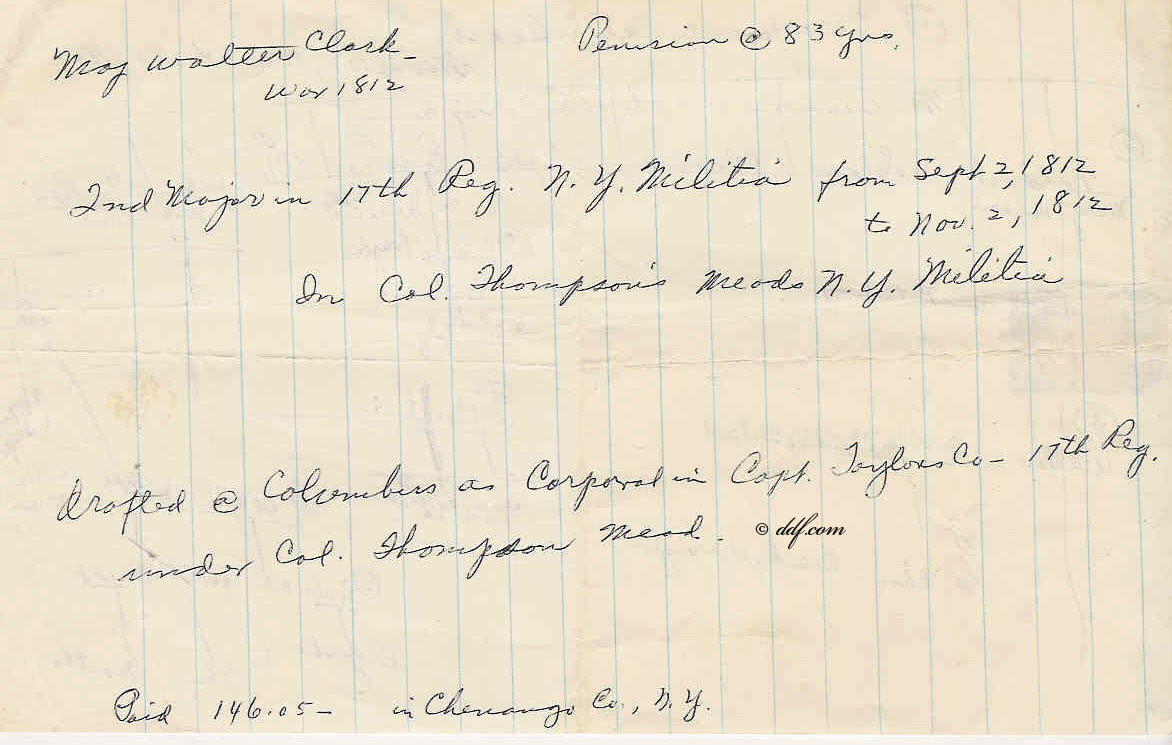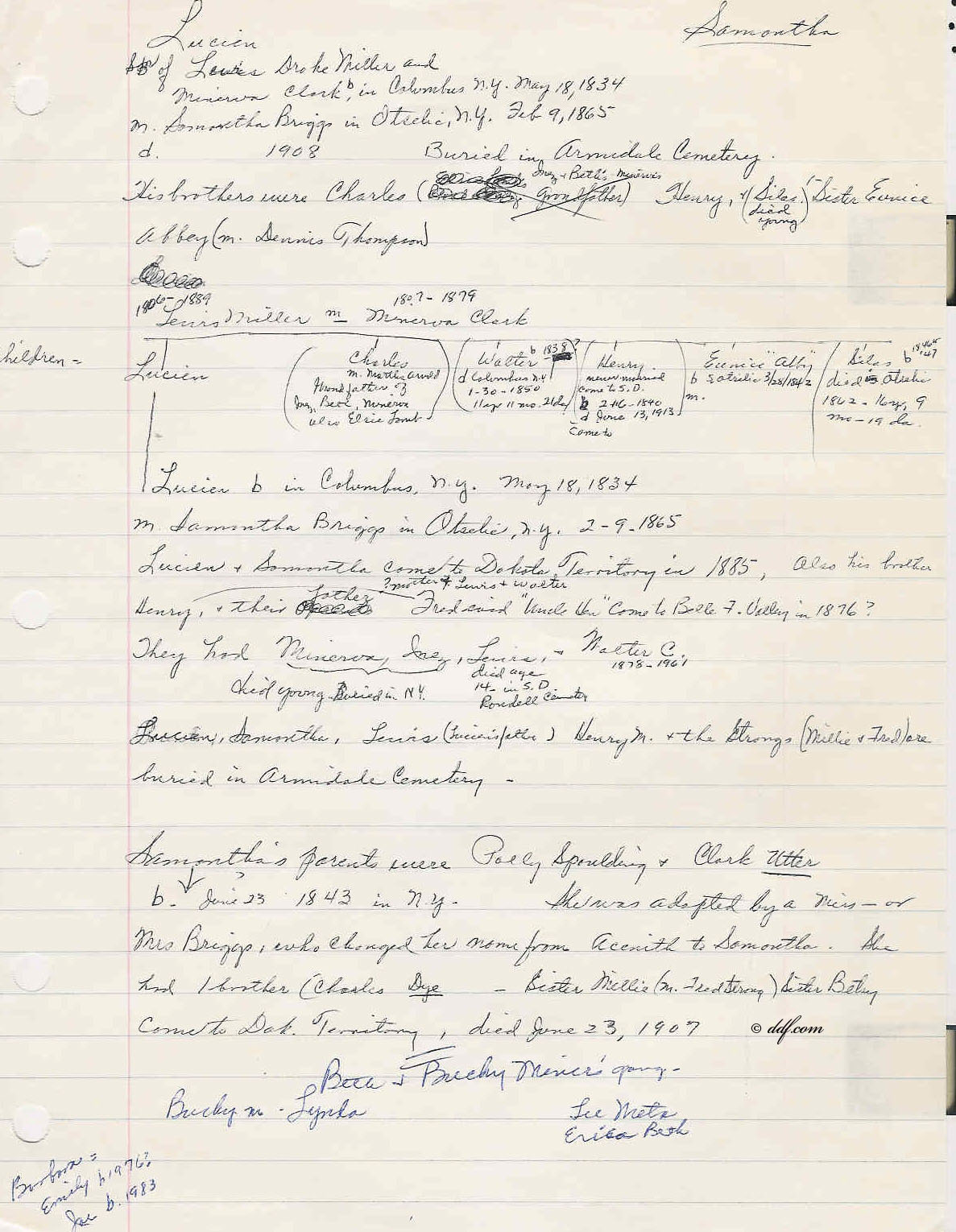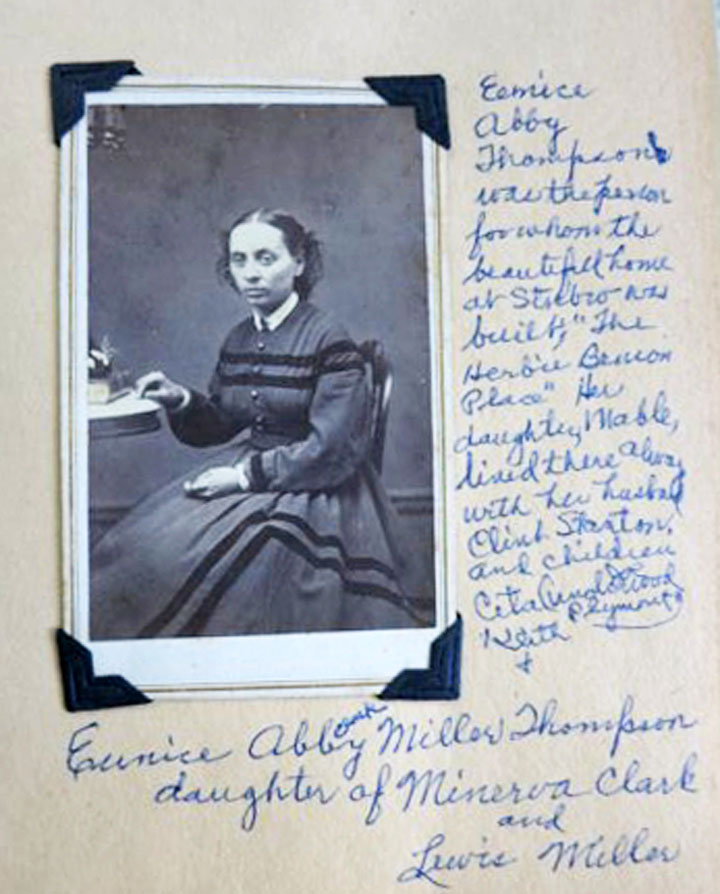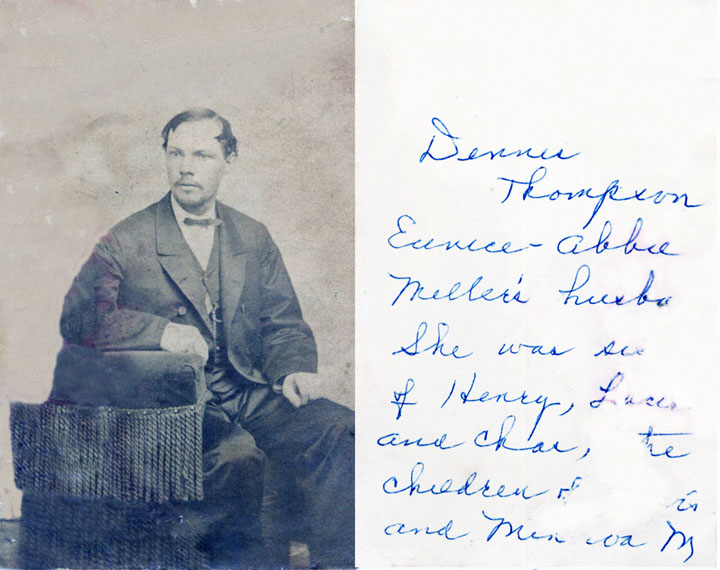 Dennis Thompson was a good builder - some of the homes he built are still standing and in use.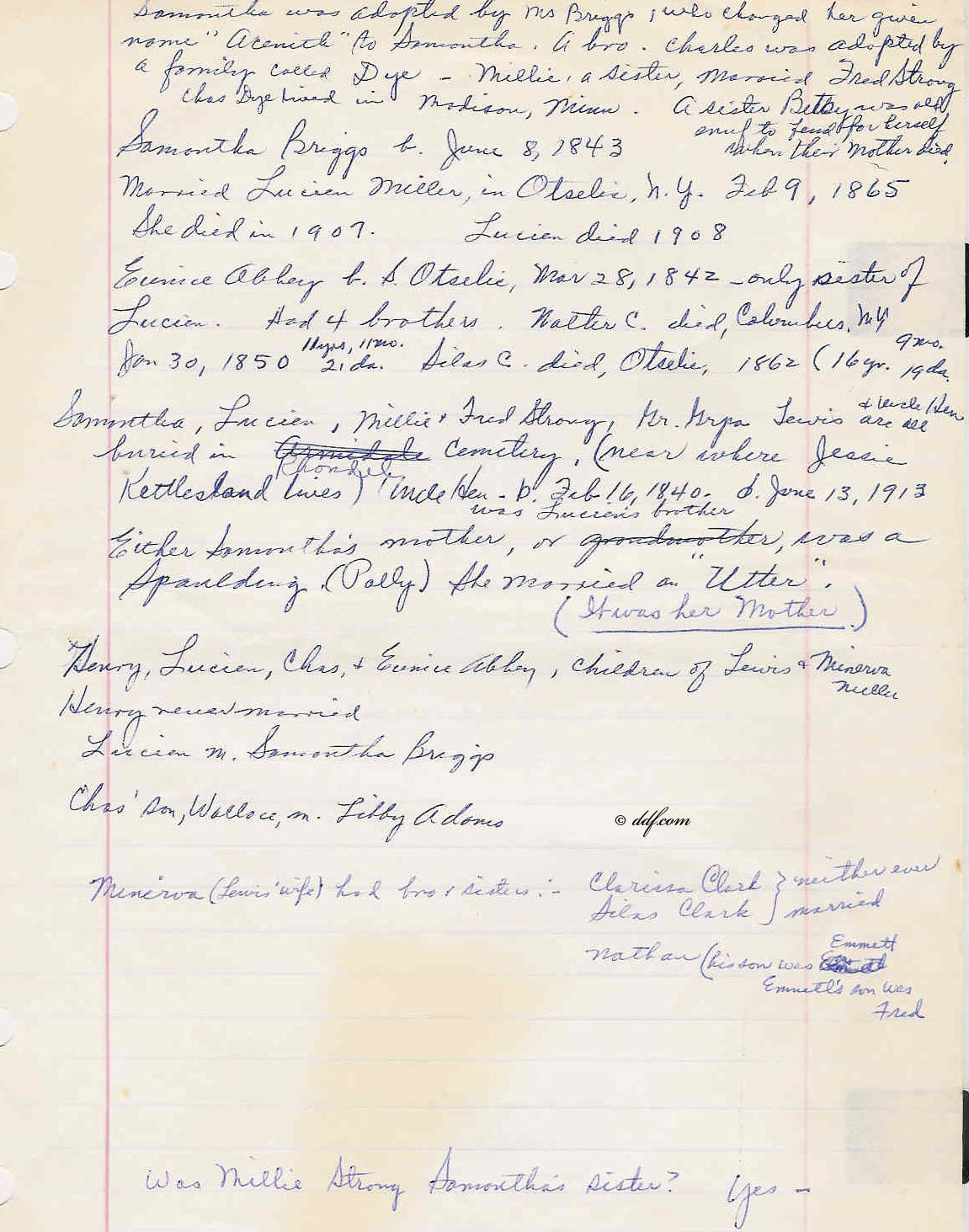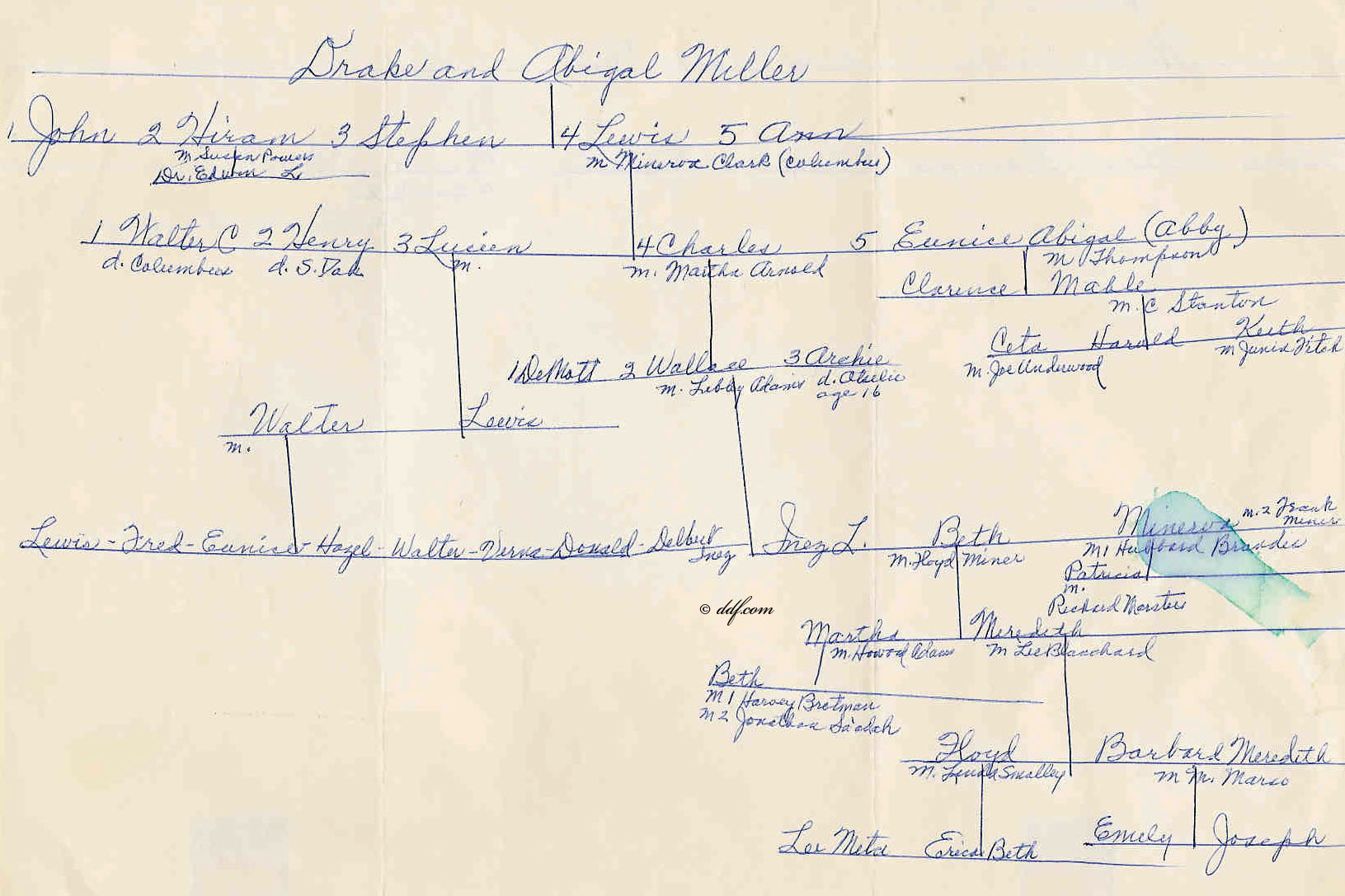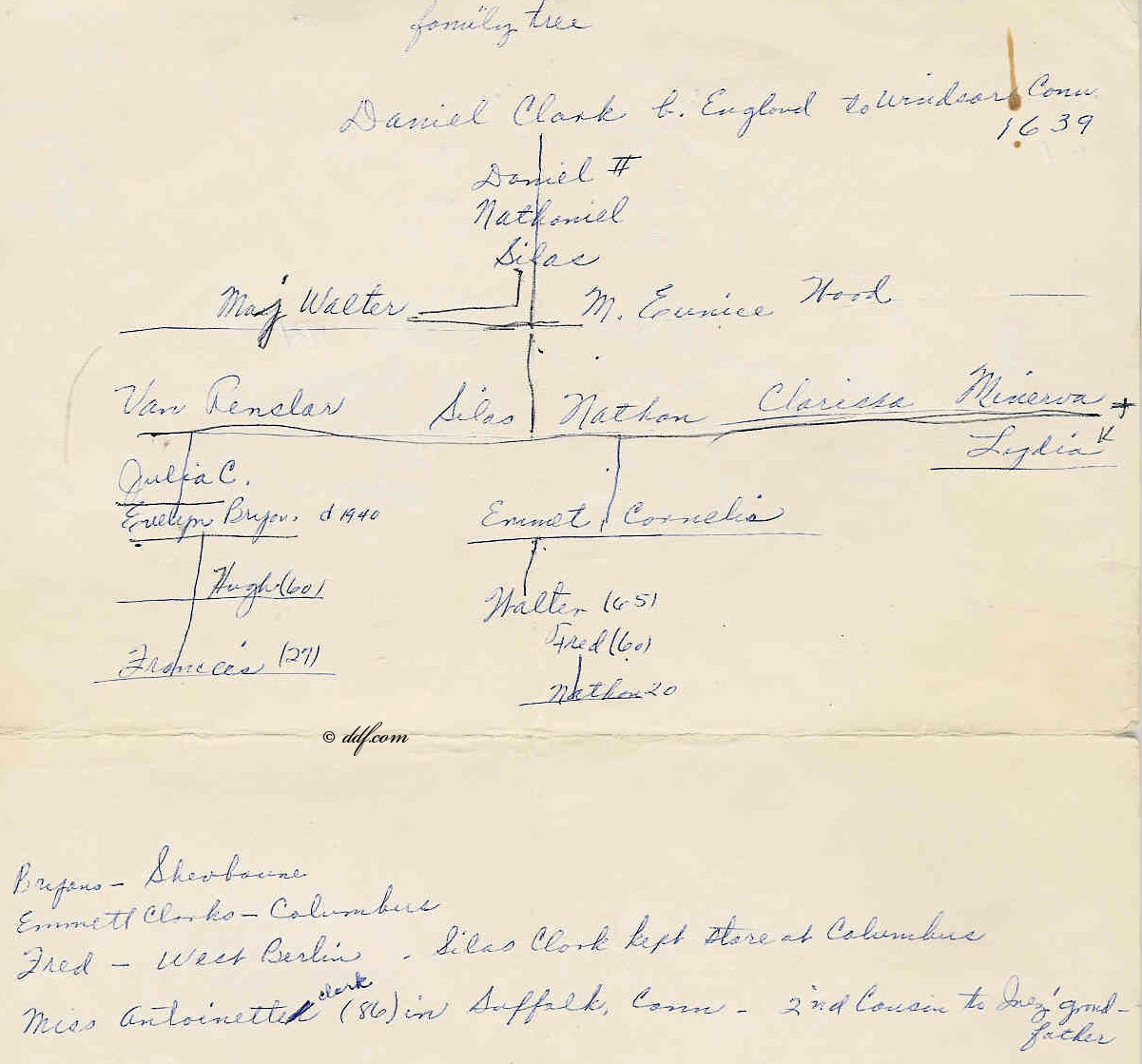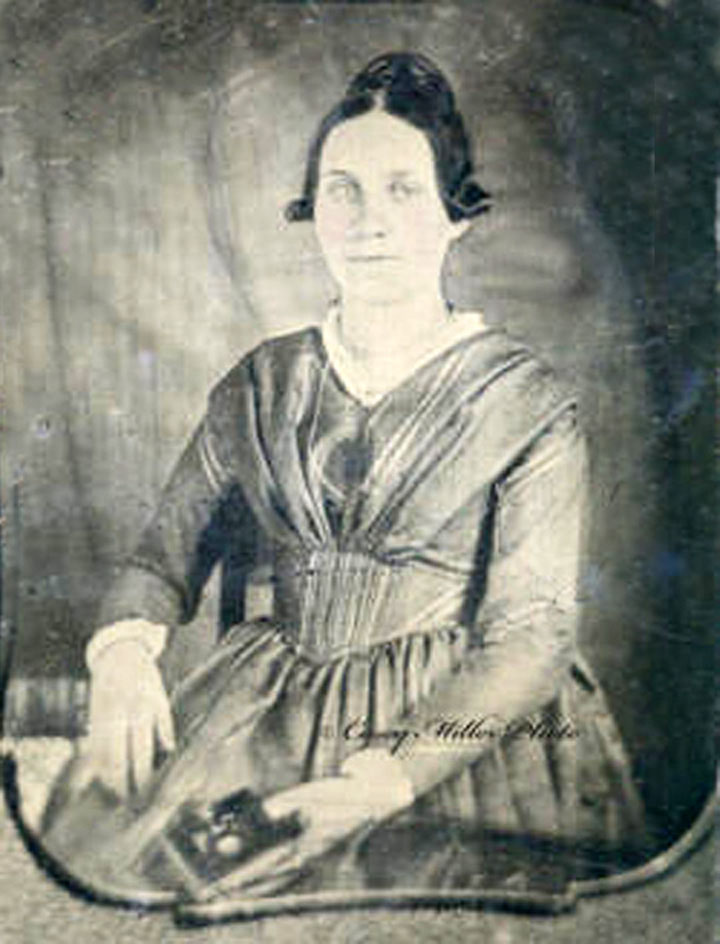 Minerva Clark Miller, wife of Lewis Drake Miller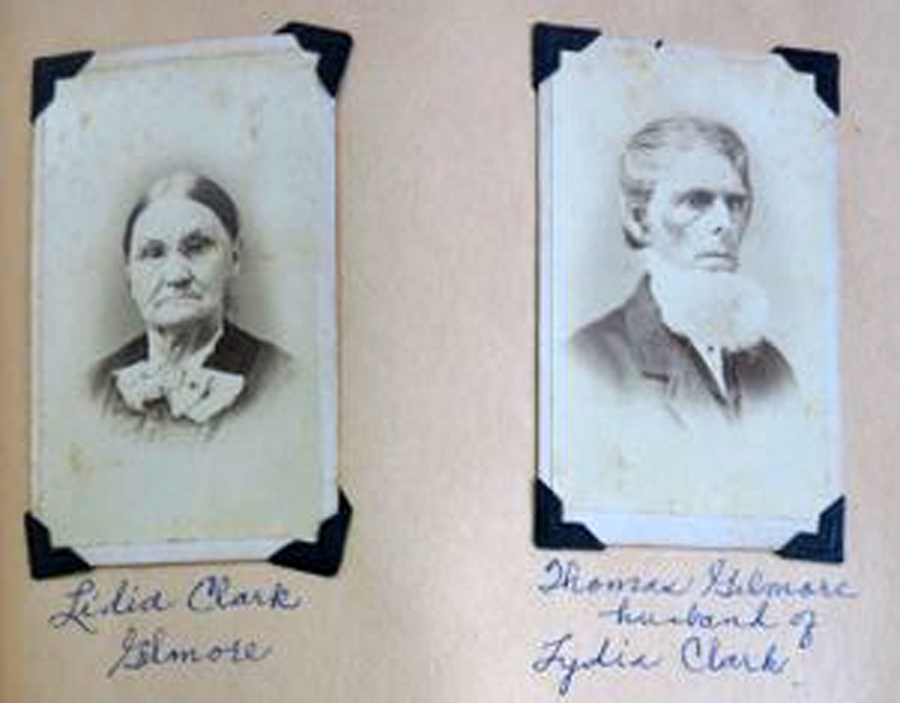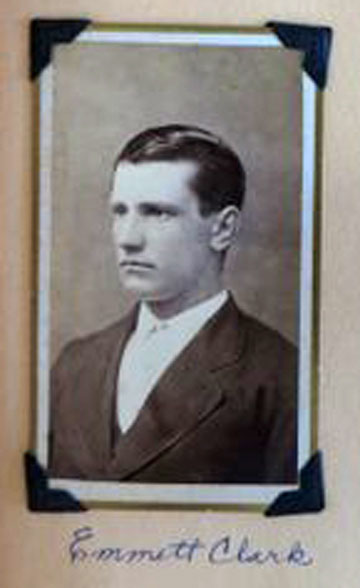 Thank you to Chad Miller for some of these old pictures!
No individual, facebook page, pinterest or any other group, nor website, blog, or any other entity
has permission to post any intellectual property from dondennisfamily.com.
Email us for inquiry regarding publishing our material.




Put Website in Subject Line