(click pictures to enlarge)
1930s - Cully, Casey, ?, ?, Grandpa Walt and Fred in back.
Second row: Eunice, Grandma, Hazel and Verna.
Front: Iny and Lyle Baker, oldest grandson.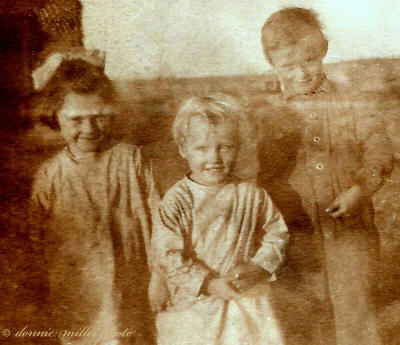 (pic 105)
Mom Margaret, her sister Jane and
their brother Harold around 1920.
This is definitely an oldie. Dating to 1918-20 or thereabouts. The caption on the picture read, "Cully and Fred, their car". Daddy is on the left and Fred on the right.
Mom's brother Jim and wife Bernita with Joann and Doris their two oldest girls. Jim was an excellent fiddle player and played for dances around the area for many years. This photo dates from the mid 1930's or a little later. Jim died tragically and unexpectedly in 1955 at the age of 45. A terrible blow to the whole family as he was a very well liked and respected man, everyone's favorite brother. We spent a lot of time with their family and kids growing up.
Uncle Casey was I think 9 years younger than Daddy, the same age difference there is between oldest brother Lewie and I.
Daddy's given name was Lewis Tolvstad Miller but he was called Cully. Casey's name was Walter Clark Miller Jr. Uncle Buck's name was Delbert so I guess the family was into nicknames. The Millers always liked horses. This picture is from 1933. It amazes me how small Daddy was. I think he was 5' 4" as an adult.
For the uninitiated, Tolvstad is Norwegian for 10 towns, the area where my Dad's mothers family came from. Now Brother Bob and Jerry both told me this story about the name and it goes thusly: The Tolvstads name was actually Haakenson and they were descendents of King Haaken. In those days the number one son inherited everything from the father, especially a nobleman or a king, so the other siblings ended up getting the shaft. I don't know how many generations had passed but the name denotes they were descendents of King Haaken.
When they got to Ellis Island there was a lack of communication, so to speak, and the Immigration people gave them the name of the area they were from, which was common at that time. Thus they had the name Tolvstad. I don't know where this information came from but I suspect Uncle Fred as he was very sharp about names and facts and had a great memory. Jerry told me a lot of other family stories that he had heard from Fred and Jerry had a great memory as well. So many of these things died with them. Sad.
I know Daddy and Mom had made more that one trip to Oregon. Mom said she wouldn't have minded moving out there but Daddy didn't want to leave South Dakota and his parents and family. They all stuck out the 30's but a lot of Mom's family went to Idaho in '37. Uncle Eugene Henderson and Aunt Jane, Mom's younger sister went out with them but moved back to South Dakota after a couple of years.
1941 Cousins. Uncle Jim's kids, Hendersons and some of my older siblings. Front: Eileen, Harley Henderson, Maggie, Bob and Liz. Middle: Doris with a cute puppy and Joann holding Jane. The two boys in the back are Gene Henderson and Brother Lewie.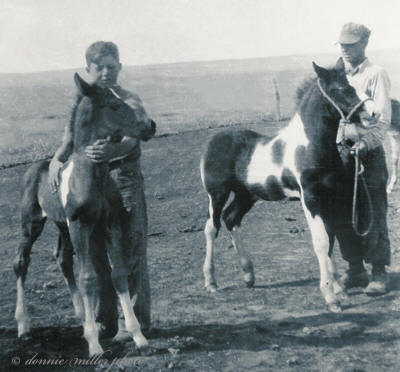 (pic 130)
Lewie and Daddy with pinto colts 1945 or '46
Daddy, Mom, Aunt Jane, Uncle Jim, Aunt Bernita holding Jane and Joann. In front, Lewie, Maggie, Bob in front of Liz, Liz, Eileen, Doris, and Gene Henderson with the hat. I don't know why Harley or Bennie Henderson weren't in the picture. This would have been around 1941 or 1942.
Check this out younger generation. Our parents raised all these kids with no running water, indoor plumbing, electricity, GPS, cell phones, tv or air conditioning. No four wheelers, four wheel drive vehicles and frequent flier air miles.
They milked cows twice a day by hand, turned a hand cranked cream separator, sold the cream to get a "cream check" that paid a lot of bills and bought groceries, slopped hogs with the skim milk, raised chickens and washed clothes on a gas powered wringer washer when it decided to run. Cooked on wood stoves, ironed clothes with a flat iron heated on said stove, chopped wood, hauled coal for heating and hung clothes out on the line whether it was 100 or 10 degrees.
They raised a big garden as well to help feed the family. The kids probably had more fun than our present lot and learned how to amuse themselves in simple ways. They also learned to help out and accept responsibility as well as interacting with other human beings instead of an electronic device.
We also got a pretty good education in one room schools taught by teachers who had only a couple of summer semesters of college training. We played cards and games or just sat around visiting. Sunday dinners and get togethers with family and friends were fun and exciting functions. When one looks at todays rat race lifestyle it makes one wonder if this is actually progress or have we all become lemmings intent on running over a cliff.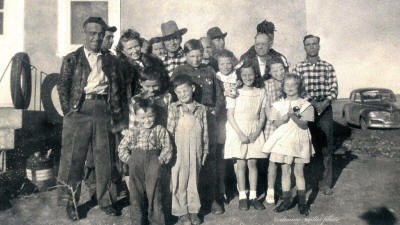 (pic 140)
Extended Family at Dupree.
1945. Back row, Grandma, Hazel, Casey holding Karen, Grandpa holding Jerry, Roland Potter. Middle row Ann holding her ears, Adella May Potter, Liz, Maggie, Marlene, Willard Potter and Bruce Potter, Bob way low in front of Bruce.
Front: Me in front of Liz, then Lewie. This is one of the very few pictures of me at an early age. They never cut my hair til I was 2 as I had blonde curly hair and I looked so precious. So this picture was before I was 2.
This was alongside Grandma and Grandpa's house south of Dupree.
Back: Willard, Lewie, Bruce, Liz, Adella, Maggie and Marlene.
Front: Bob, Jerry
and
Ann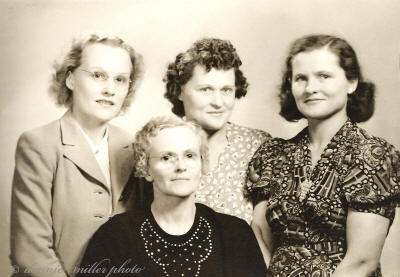 (pic 145)
Jane, Inez, Sis and Mom 1948
Jean and I on Mom's horse Joker. '50 or'51
Yeah, I looked real studious, didn't I? I still have those glasses and the case. One side is broken off as I always had trouble taking care of them and one day I took them off as we were riding calves in the barnyard and they got stepped on by a calf. I remember Daddy taking me out to Rapid City to the optometrist to get my eyes checked. We drove the Lincoln car Daddy had and I remember him pointing out landmarks and information about the country. I was especially impressed with Bear Butte. I was probably 5 at the time. I remember thinking the doctor smelled funny as everyone around our family smelled earthy and outdoorsy but he reminded me of medicine and a drug storeish smell.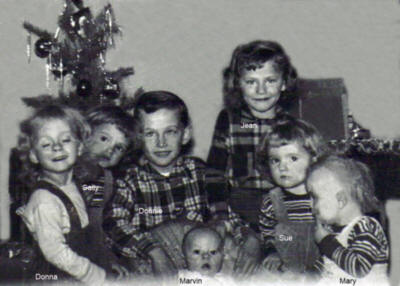 (pic 155)
1951 tiny cousins
Donna, Sally, Donnie, Jean, Sue and Mary
Marvin in front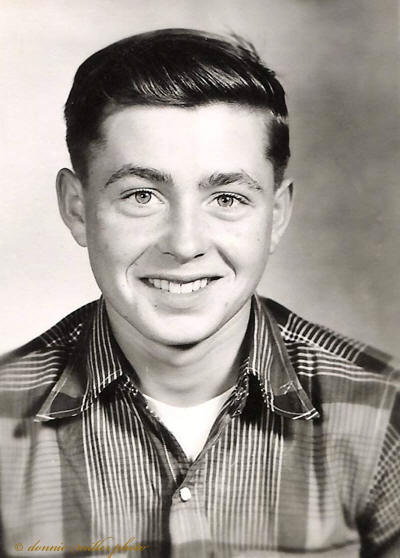 (pic 160)
1951 16 years old - Lewie

(pic 165)
My sisters Liz and Maggie. A couple of fresh
faced young farm girls. 1952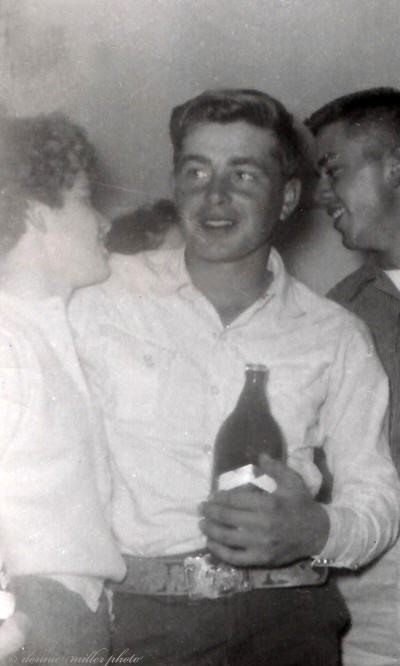 (pic 171)
1953 .. Big brother Lewie and wife Colleen.

(pic 175)
Jerry with his bum lamb '54?
The Boettcher family traveling from Uncle Donald's house to our house, in the mud.
Lynda: Dad had a little tractor for his garden in Custer after he retired from Barber Transportation. He loved "farming". I figure that he was 35 and Mother was 34 when this was taken. Now that seems so young. Bill was 8 and Bob 6. This looks like summer, so Nancy would have been nearly 2.
This was Page 1 - click Page 2 below