SCANS BY KATHY OLSEN AND DONNIE MILLER
(click pictures to enlarge)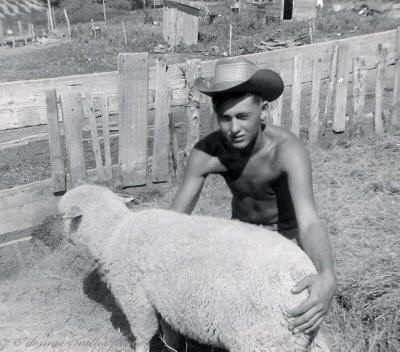 (pic 210)
Brother Bob with 4H lamb 1956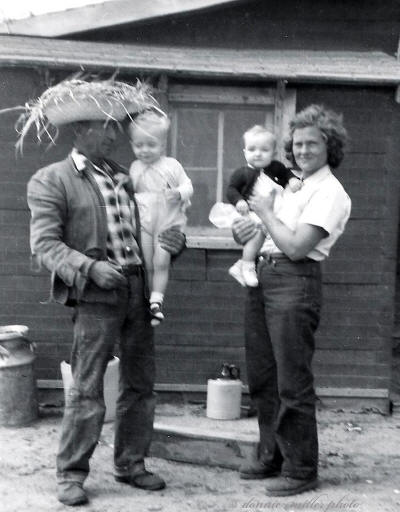 (pic 215)
Daddy and Mom; Liz's daughters Leta and Laurie 1956
Brother Jerry with the Fresno scraper and team cleaning out the corral. Every Spring we had to clean out the corral around the barn and the manure pile from cleaning the barn in the winter time. Jerry always liked to work with the horses but I tried to avoid them if possible. 1956
Cousins around '56 or '57 Back row Bennie Henderson, Bob Miller, Jerry Miller Joyce Collins and Donnie Miller. Middle row Judy Stout and Jean Farlee ...two of Joann Ross's girls and Gene Henderson. The occasion was a visit from Grandma Miller, Mom's mother, from Idaho.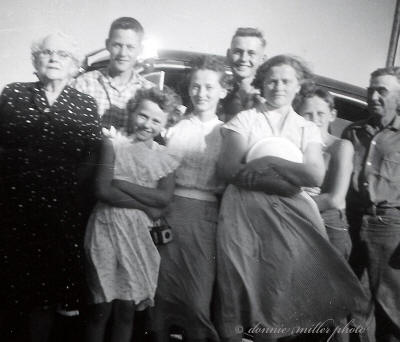 (pic 226)
Same day. Mom's mother, Jerry and Bob.
Front: Jean, Maggie, Mom Margaret,
Donnie and Dad Cully. '56 or '57.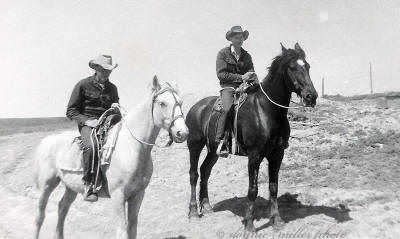 (pic 230)
Brothers Bob and Jerry around '57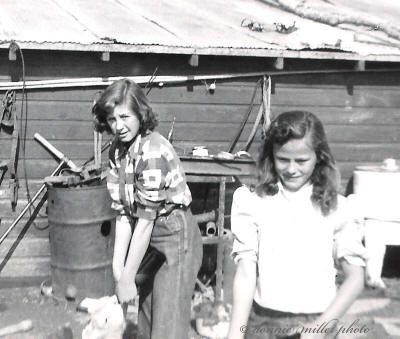 (pic 235)
Joyce Collins and Jean feeding
bum lambs at our place. '57?
Brother Bob and Jean maybe '57 or '58. I think we called the dog Tippy. She always rode behind the seat with her face peering into the wind and one day Lewie made a sudden swerve to miss a mud hole and she fell off and her tail got stripped hair and skin, necessitating surgery. She was bob tailed after that. The vehicle in not a Jeep but a 1940 Ford sedan that brother Lewie cut the body off and made a little pickup bed on the back. It was a great vehicle for goofing around in and it was light so it kind of floated over the gumbo (very slick or very sticky mud). It didn't tip.

(pic 245)
Daddy and Mom, and Mom's sister Jane
and her husband Eugene Henderson. 1958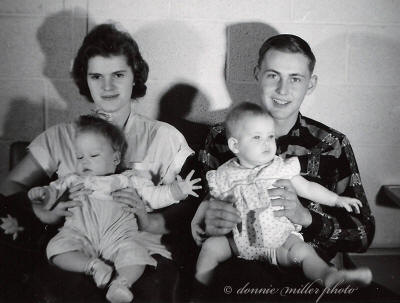 (pic 250)
59 Colleen with Suzie and Brother Bob
holding Sharon Boehrs, Maggie's daughter.
---
This was page 2... click for page 3