(Click Photos to Enlarge)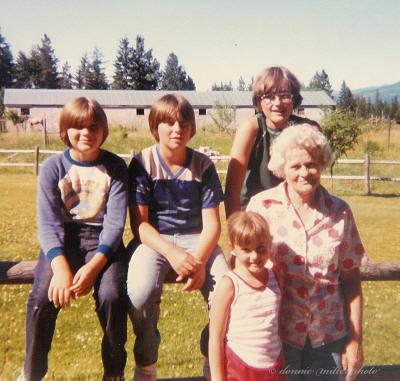 (pic 300)
Brother Bob's boys, KC, Clay and Clark with my Mom and Kathy Olsen. This was taken at their place outside of Priest River, Idaho and the hog barn is the long building in the background. This was the site of the now legendary encounter Clark had with Suzie the big Sow. Maybe he'll post a link to his blog describing the incident. It's hilarious.
---
http://straightouttaboise.blogspot.com/search?q=pig
This is the link, used with permission from Clark.

(pic 310)
Brother Bob in his Army uniform, 1964, age 24.

(pic 315)
Feb. '64 by Liz's house in Rapid City. Right before we left for Idaho for Grandpa's funeral. I had just turned 20 and I'm not sure I ever looked like this. Not much resemblance to the almost 70 year old Donald.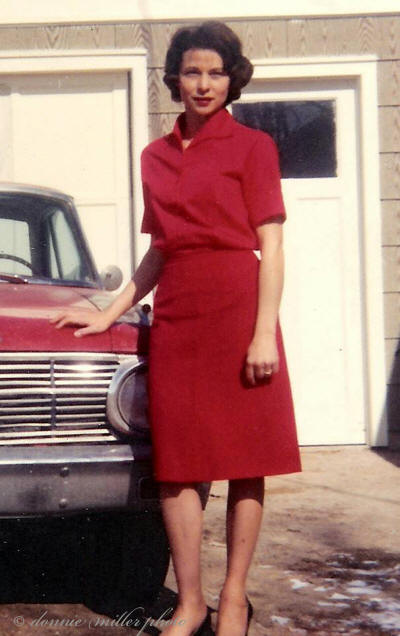 (pic 320)
My sister Liz, 1964.

(pic 330)
Leta Eberhard, my niece, sister Liz's daugter, standing by my '56 Olds in their driveway in Rapid CIty. Jan. '64

(pic 335)
The three sisters Feb. 1964. Hard to believe Mom was only 50 years old at the time. Jane was a couple of years younger and Sis was a few years older. I think we went to have smoke break and talk about some of the goings on inside. Sis was really funny, a great sense of humor.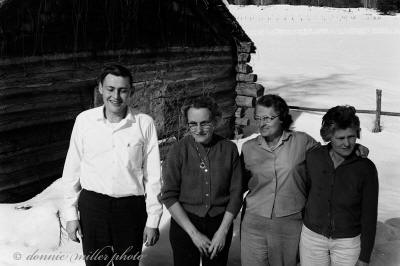 (pic 340)
Brother Bob would have been 24 at the time of the picture. Inez was at the funeral but for some reason not in the picture. Bob was in the army at this time and as he suffered a badly broken leg during basic training he didn't do much "army-ing", spent a lot of time in the hospital and on leave which he was on at this time. I think he met Gevi while he was in the hospital.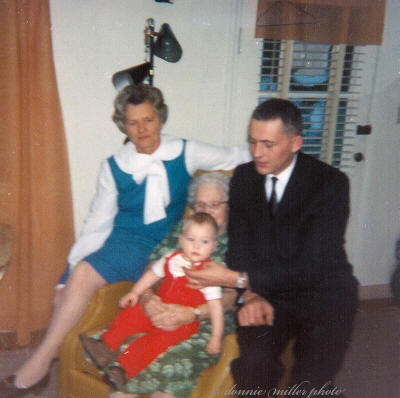 (pic 345)
Four generations. Clark, Mom, her mother
and Brother Bob '66

(pic 350)
Eldest brother Lewis in his prime. Nice gams, dude! Circa 1967, Seattle. 32 years young. Amazing, my kids are now quite a bit older than that.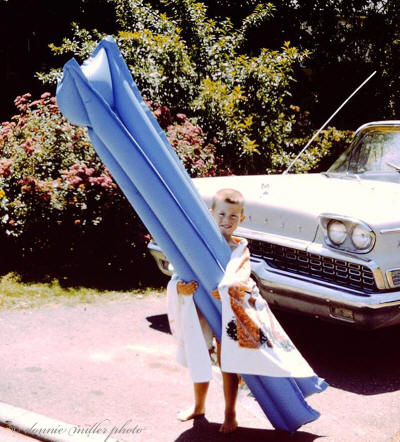 (pic 355)
My nephew, Scott Miller, Brother Lewis's son, Seattle 1967. Ready for some fun and sun! When the sun comes out in Seattle in the summer, or anytime for that matter, people go running out in the street and going crazy and heading for the water. Scott must have been 4 here as when I went out to work on Yellowtail Dam in June of '63 Colleen was, as they say, heavy with child and birthed Scott in Hardin a month later on Lewie's birthday, July 17th.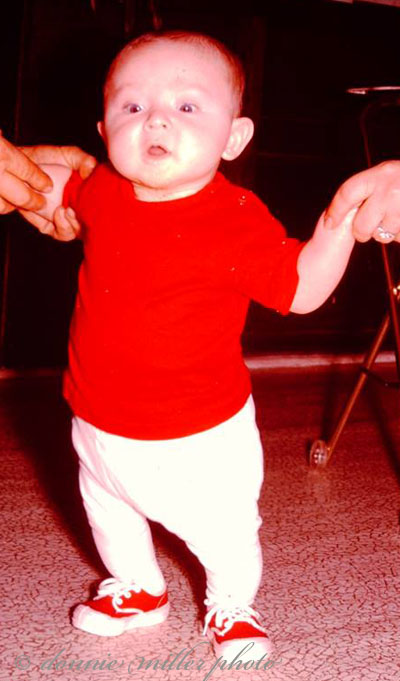 (pic 360)
#1 son Jeffrey taken at my Mom's house in the winter of the big snow, '69. He was a little over 3 months old.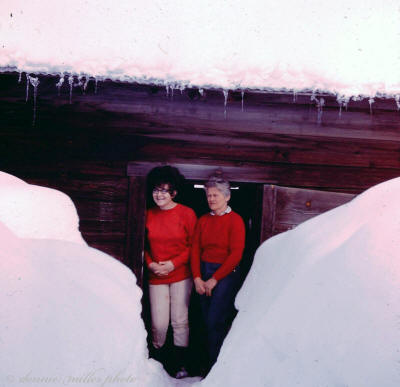 (Pic 365)
1st wife Stella and my Mom by her woodshed. 1969, bad winter and lots of snow. She lived outside of Usk, Washington and we lived in Libby Montana and we had as much snow there. There was 5 feet on the level at Mom's place. My brother Jerry and I had to shovel the driveway for us to get in and then get out. The driveway was probably 500 feet long and snowblowers were nonexistent in those days, so out with the shovels. Great exercise.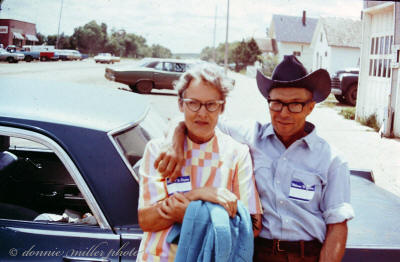 (pic 370)
Mom's younger sister Jane and
hubby Eugene Henderson, Dupree, 1970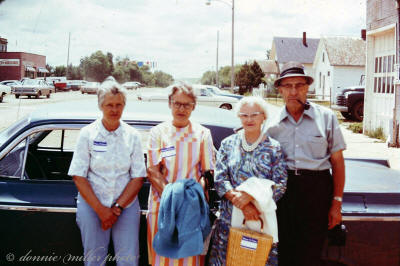 (pic 371)
Mom, sisters Jane and Inez and
her husband Clarence Phillips. Dupree 1970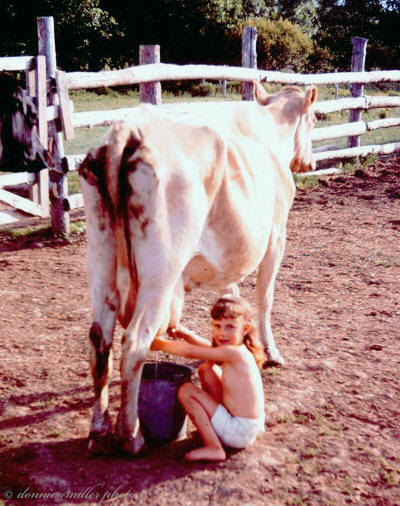 (pic 378)
JEAN: 1970 Shelley showing Stella how to milk a cow.
The cows name was Cherie. We got her from Donnie and Cherie hence the name Cherie. She was a nice, gentle cow
as you can see from the picture. That Shelley was a heck of a milkmaid.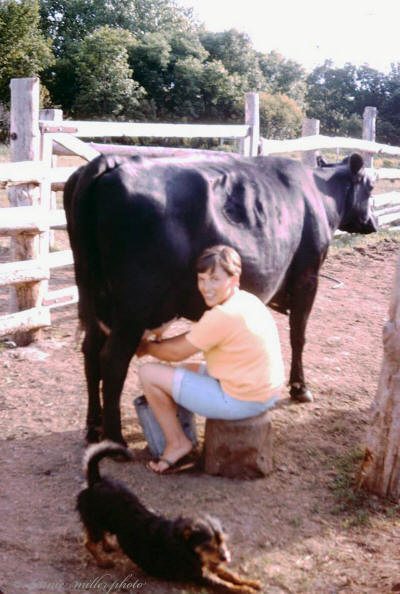 (pic 379)
This cow looks gentle as well. Note Buttons the little terrier dog . This was taken same day as Shelly's, 1970 JEAN: And of course I was an expert cow milker. I like my stool that I was sitting on. Looks like a log but was a bucket. The cow could be darn ornery if she wanted to be. Her name was Hollis. We had a name for her but I can't remember what it was now but Shelley called her Hollis so Hollis it was. She had a stub tale and she could be vicious with it in fly season. It could about knock you out.
Buttons was a neat little dog. Donnie, I'm glad that you weren't around at chicken butchering time.
Clark, at that time we milked 10 cows. We sold cream. We lived on cream checks in those days. I had chickens and we sold eggs at the store. That covered our groceries and the cream checks paid the light bill and other things. We didn't have a phone then so no phone bill. I don't think that we lacked for anything though. We had a few cows and used that for place payments at the end of the year and for other things pertaining to the place. Those were the good old days.
DONNIE: After I was 10 or thereabouts, my job was to keep tabs on the milk cows so I knew where they were and then go out on horseback and get them. We had a real gentle young bull we called Ferdinand and Jean and I would ride him around the barn yard while the older folks milked. One would ride and one would "crank" his tail and he would try to scrape us off on the side of the barn. Sometimes Jean would ride out with me on the horse and I would ride Ferdinand back to the corral as he would plod calmly along trailing behind the cows and didn't mind me being on his back.
One summer day when Ferdinand was probably 2 years old and fair sized, my cowboy brother Jerry decided he would put a "circingle" rope on him and see if he would buck. Lewie put a flank rope on him and after Jerry was aboard he pulled the flank rope tight. Ferdinand's ears perked up and let out a loud beller and make a couple of wicked jumps that would have made a PRCA bull proud.
Jerry lasted one jump and went flying through the air and landed on top of the manure pile. Needless to say we never tried that stunt again. About that time Daddy decided Ferdinand needed a ring in his nose because dairy bulls could become mean and he was getting beyond his gentle stage. He tied him down and used a pitchfork tine to put the hole in for the ring and then put the ring in and it was done. I felt sorry for poor Ferdinand but that's the way things were done. After the nose healed Daddy put a short length of chain on the the ring so he couldn't do anything too fast. We weren't allowed to ride him after that either.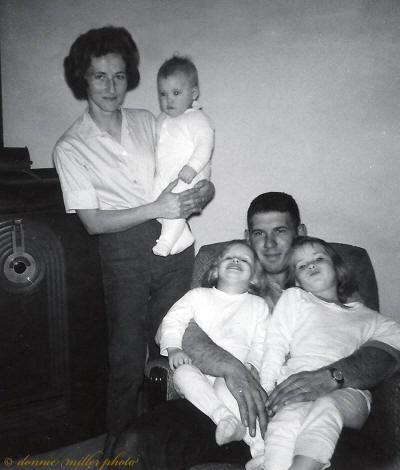 (pic 385)
1964 - My sister Maggie and kids. Sharon on right, Lynn on left, sitting on Frank's lap and Maggie holding baby Cheryl.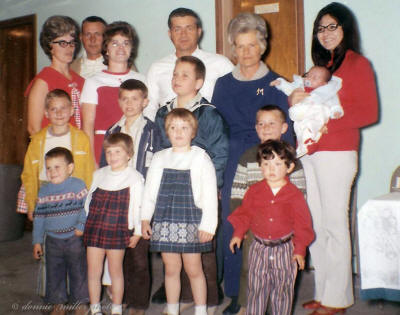 (pic 390)
Brother Bob, brother Lewis and my families. Stella is holding Brian who is only a few weeks old. '71 Bob's youngest KC is lower left and oldest son Clark is behind him. My oldest Jeff is lower right and Bob's middle child Clay is right behind him. Gevi's and Mom's hairdos came from Stella who had gone to Beauty School when we lived in Lewiston, Idaho in '67-'68 and she was into the big boofy hairdos, not for herself, but when she did hair.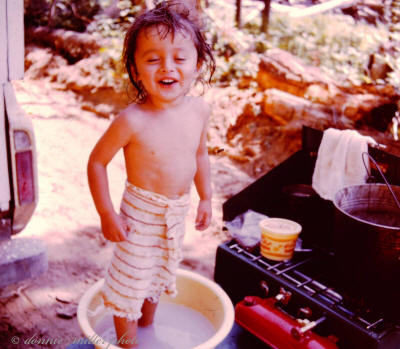 (pic 393)
#2 son Brian 1973. Camping at Hayden Lake, Idaho.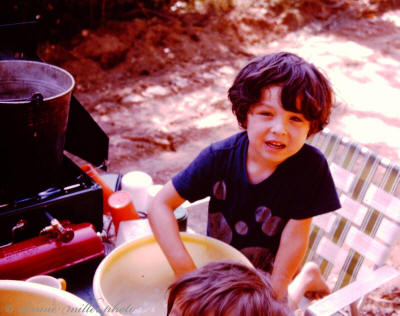 (pic 394)
1973 Camping at Hayden Lake, Idaho.
Jeff keeping a clean tidy camp.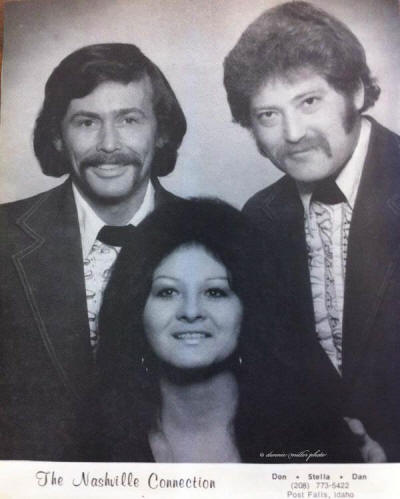 (pic 395)
1975 - Donnie, Stella and Dan Middleton.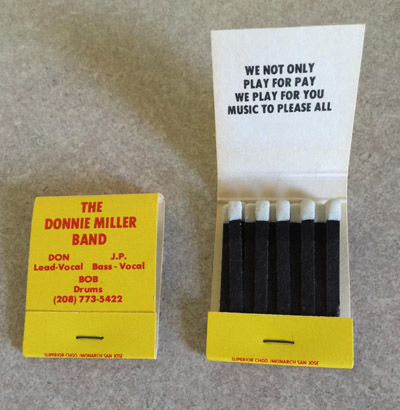 Photo by Kathy Olsen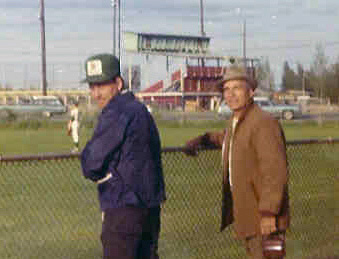 (pic 396)
1976 Bob and Uncle Casey in Fairbanks

(pic 397)
1977. Daughter Bonte and #2 son Brian
on one of our many road trips.

(pic 398)
1977 Dinosaur Park Rapid City SD.
#2 son Brian and Donnie.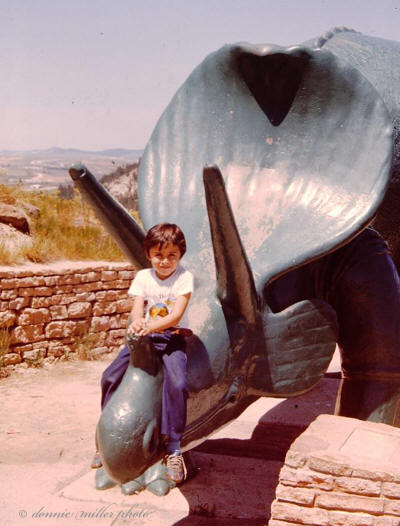 (pic 399)
#2 son Brian 1977 Dinosaur Park in
Rapid City, South Dakota.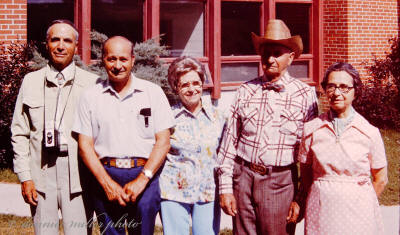 (pic 382)
1977. Daddy's siblings at Eunice and Roy's 50th anniversary. Casey, my namesake Donald, Verna, Fred and Eunice. I'm amazed at the resemblance between Verna and Sue Starr.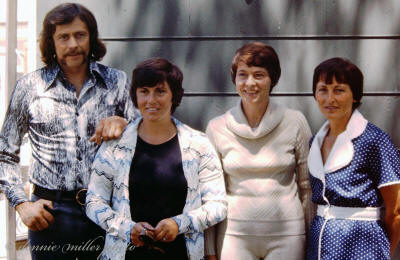 (pic 383)
Donald and his beautiful sisters. 1977.
Mom was right, she never had any homely kids.
Jean (Farlee), Liz (Eberhard) and Maggie (Laurenz).
This was Page 3 - click for Page 4 next...