SCANS BY KATHY OLSEN AND DONNIE MILLER
(Pictures enlarge with a click)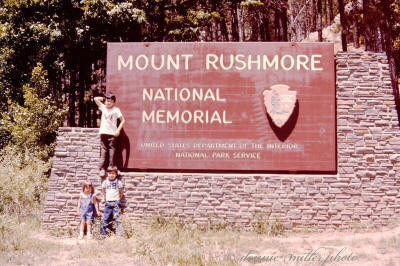 (pic 405)
1977. Self explanatory.

(pic 410)
1977 Baby Sister Jean with that "Pepsodent smile".
1977 Eunice and Roy's 50th anniversary. From left: Karen Miller, Jean Farlee, Maggie Laurenz, Donna Miller, Liz Eberhard, Sue Starr. Back row, Lyle Baker, the eldest of Grandma and Grandpa Miller's grandkids, and Donnie Miller.
Back: Calvin Baker, ?Baker
Connie holding Shane, Laurie, Faye Baker, Leta, Shelley behind Cheryl.
kids: Jeff, Lisa and Lori Starr, Sheri K, Brian behind Kathy, Jackie Dittus in front of Steve K.

(pic 420)
Uncle Fred Miller, 1977
I started first grade in 1949, Aaaack! and graduated from the 8th grade in 1957. All seven of us Miller kids graduated from the eight grade from this school. Shortly after this picture was taken it was bought and moved again and ended up being used as a chicken coop. Sad, indeed.
In the picture is my youngest sister, Jean, her youngest daughter Kathy and my youngest son Brian.
All the country schools had a dance once a year, always in the Fall, to raise money for school stuff and they were a lot of fun, especially for high school kids as they were "in the country" and everyone had a jug of hooch and beer in their cars. Seems funny now to think of having a dance in a place this size, doesn't it? They would push the desks to each side of the room and the little kids would lay on them and go to sleep. I remember each year thinking that I would stay awake til the end but I think I was probably 10 or so before I accomplished that feat.
They usually had a "box social" and the women would make up a box of goodies wrapped up fancy that would be auctioned off for what was called "supper time" which was an intermission at midnight and the bidding could get quite intense when there was a desirable young lady in the mix as the winning bidder got to eat the lunch with the young lady, usually out in his car! What a way to get a date.
When I was in the third grade we had an attractive young teacher from out of the area and there were a couple of single young men who put on quite a bidding war for the privilege of having "supper" with her. I'm quite sure they weren't that interested in the contents of the box of food. Donnie Miller
Jeffrey, Brian and Bonte at Grand Coulee Dam 1979? I'm not sure what Bonte is doing laying on the walkway but we didn't want to stifle her creativity.
We went to Grand Coulee to visit a couple of friends of mine, Don Pesicka, and his wife Judy., Judy played bass and sang in a band there and they were having a jam session/get together at their place or at one of their friend's place. Don had been telling these people about me, that I was a country singer and guitar player that he had grown up with in South Dakota and had know for many years.
Well, we rolled into their place in the old Econoline van with the puke art on the side and running kinda chuggy as I was having some carburetion problems, three somewhat grubby kids , a huge Great Dane dog and my hippieish girl friend PJ. and me looking like in this picture as it was either taken right before we got there or the day we left as we had done a tour of Grand Coulee Dam where the picture was taken.
Now these people were real straight up hats and boots country music and horse people and probably a little on the red neck side as well. They looked at my entourage with their mouths open and, as one of the bunch, Floyd Norton, the drummer of the group, who I become very good friends with, (I bought Emmy Lou the donkey from him), told me later, they didn't know what the Hell to think of us.
It all ended up well and we had a grand old time and played a lot of music and drank a lot of beer and had us one of those real good times that people talk about. And I made a lot of good friends in the process.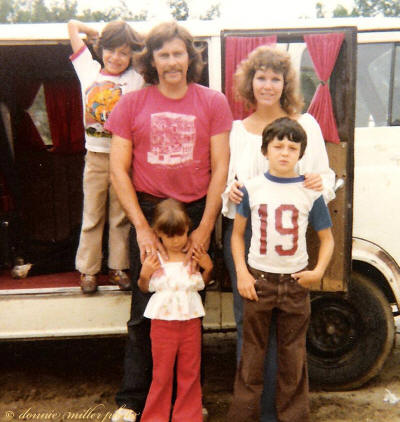 (pic 441)
Happy crew travelin' in style in the Old Econoline. '79
79, PJ and Sagramore at Wanless Lake, 9 steep miles by trail in the Cabinet Mountain wilderness area of NW Montana.
This was the first trip we made with "Emmy Lou" our pack donkey I got so we could take the kids backpacking. We bivouacked 6 miles in the first day, as we got a late start.
When I got up at daybreak I realized that I had left my camera in the van so I ran down the trail and of course walked back up the long switchbacks so we could make the remaining three miles into the lake. I'm not sure I'd do that now, just go without pictures.
PJ: Wanless Lake, where the bear came in and ripped up our camp while we took pack donkey, Emmy Lou, down the trail for some better grazing at a smaller fishing hole. Sagramore and I surprised him on our return to camp, and Sagramore hounded him like a big dog for hours. Later in the night, the bear returned and Sag was lying in wait for him. Off through the woods they went again. Emmy Lou wanted to join us in the tent.
While we were hiking out, Emmy Lou got tired and just laid down in the trail, pack boxes and all. Then there was the horrendous wind and hail storm. We open trailer'd her home through, and the next morning we discovered she'd been pregnant. Our pack string doubled over night.
1979 - Emmy Lou's baby Jethro the morning of his birth, the day after we came out of Wanless Lake and she packed 150 pounds of gear. I guess it was rather ludicrous that I didn't suspect that she was carrying a foal. Her belly must have been quite big.
1980, travelin' in style on the Oregon coast. '62 Ford Econoline van. We traveled all over the western US in that rig. The engine that was in it when I bought it, blew a piston coming into Sacramento in '77 so I pulled the plug wire and we drove it back to Post Falls and most of the summer before I got a used engine and replaced the original and drove another 100,000 miles before retiring it.
Emmy Lou, Liz, Kathy on the way to Rainbow Lake in the Beartooth Wilderness Montana. August 1981. When I set up this little adventure I told everyone to pack light but my version of packing light and their version was quite different.
PJ the kids and I had gone in to the lake on Wednesday and had a nice camp set up. We packed in with two donkeys, Emmy Lou and her young-un Jethro but as Jethro was a pain in the keester and the South Dakota people assured me they were packing light, I only took Emmy Lou to bring them in.
Jeff and I got up at first light Friday morning and went down the 7 miles to the trailhead and they were all there waiting. Liz, Maggie, her daughter Cheryl, Jean, Kathy and Shane. After ditching some of the gallon jars of canned chicken, stew and other heavy stuff the sisters had thoughtfully brought along for the occasion, we packed up, still a bit overloaded, and headed out. I ended up with around 200 pounds on Emmy Lou but she handled that much weight well, especially on short trips with a few days to rest up in between.
I told them they were in for a real treat as the scenery and the trail were outstanding. It was quite a grunt for people who had never hiked in the mountains before but we all made it in all right even though Liz got some nasty blisters on her feet as she borrowed her daughter Connie's "waffle stompers" for the hike. Now waffle stompers were not intended for rough hiking and of course her feet weren't used to them so, bad choice. Took our time and enjoyed the ride. We did quite well getting synchronized and on the same page even though we didn't have cell phones or GPS.
1981 East Rosebud Lake, Montana. Trying to get the South Dakota crew packed and ready for the trail to Rainbow Lake. My shirt looks a little greasy. We stopped for gas in Butte early in the morning and the van wouldn't start so I had to unhook the trailer with Emmy Lou and our gear and got the kids and PJ out and we pushed it and got it started (it was a stick shift). When we got to Bozeman the auto parts stores were open so I got under the van and pulled the starter, got a new one, put it in and we were off again. I didn't want to wait for the engine to cool down and I ended up burning my hand a bit. Probably where the grease on my shirt came from.
Jean & Kathy on the way to Rainbow Lake, Beartooth Wilderness, Montana. 1981. Kathy is NOT a happy camper.

Kathy: I didn't look very happy did I??? But in my defense I had gotten out of a body cast (which I had been in for 8 weeks) three months before this trip and had to learn to walk again. That's my story and I'm sticking to it!
It was a good thing that Aunt Maggie and Aunt Liz babied me along the trail, coaxing me along.
Jean: One reason that Kathy was so frowny was that Donnie lied to us. He kept telling us that it was just a little bit farther. Hours later we got to camp. It was really a fun experience though.
Donnie: I had to tell them something and that was more humane than telling them the truth, that we had many long treacherous miles to go and some of us probably will be coming back in a body bag! Actually they started asking about how far it was before we got past the end of East Rosebud lake, the jump off point. It was a pretty good grunt in to Rainbow and never having hiked before made it a daunting trek for them.
Jean: One of Kathy's problems was that it was the summer after she had her leg broken and she still couldn't walk really well. When we got to the steep part Maggie let her hang on to her belt loops to help her along. Thank goodness for the Aunt Maggie's of the world. We had a long way to go yet too.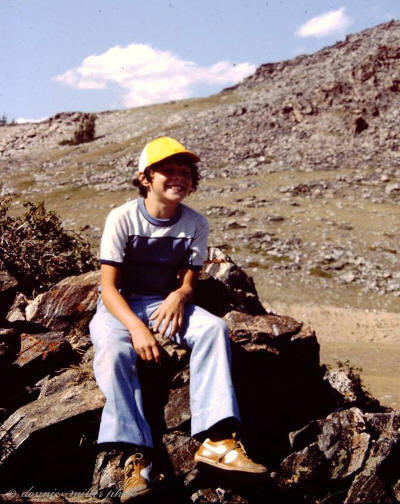 (pic 490)
1982 Big Horn Mountains Wyoming. #1 son Jeff.

(pic 493)
1980 -Jerry and Brian with Sagramore.
Brother Jerry and wife Terri at their place west of Yakima, Washington. '81 or '82. Note Jack the greyhound standing between them. That must have been before they got Grover the Australian dingo. I think that's Bonte in the background going into the trailer.
This was page 4; Click page 5 below